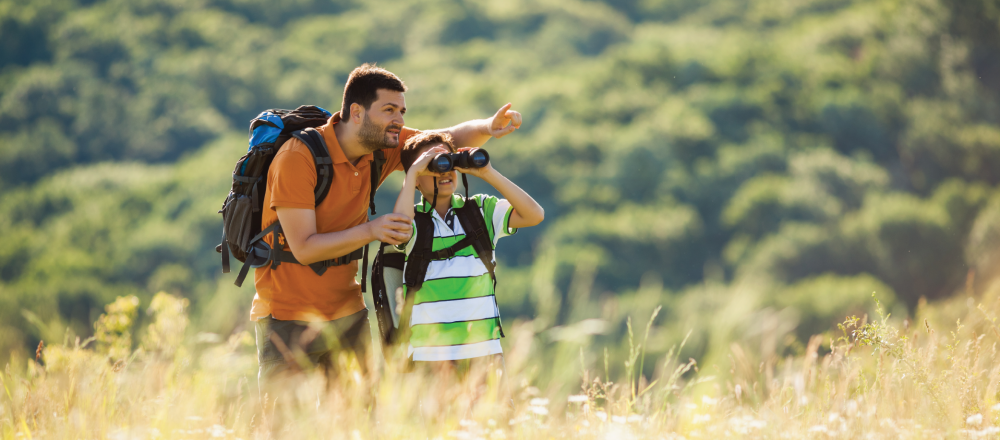 Between smart phones, internet ready televisions, laptops, portable gaming systems, and electronic toys, technology influences have infiltrated nearly every aspect of our lives. Access to technology has increased dramatically over the past decade. WIth just a push of a button or touch of a screen, an endless amount of information and entertainment is at our fingertips. While many of us know there are benefits of setting our devices aside regularly, especially to get outside, it's challenging to actually unplug. But do we really understand how important it is for your child and your family to be intentional about scheduling time to go "off the grid"? For most of the year, routine dictates that our devices stay within reach. But according to recent studies, we may be losing big by staying plugged into a virtual world.
Results of the YMCA's Family Health Snapshot survey, conducted in partnership with the American Academy of Pediatrics Institute for Healthy Childhood Weight, indicate that only about half of kids get at least 60 minutes of daily physical activity during the summer. Additionally, 64 percent of parents report that their kids spend three or more hours a day online during the summer, playing video games or watching TV.
Here are a few healthy habits, tips and tools that may help your whole family unplug this summer:
Restrict screen time. As a family, determine some boundaries. You might consider limiting the amount of time spent watching TV or playing on the computer. You might allow kids to use phones but ban texting or implement a phone curfew. Together you can decide what the best restrictions will be so that the benefits are realized and appreciated by everyone.
Seek out low tech entertainment. Activities such as reading, crafting, coloring, board games, and puzzles are fun for kids of all ages.
Spend time outside. Find a local park and take a hike or fly a kite. Go swimming or have a water balloon fight. Take a family bike ride. Go on a nature walk or try geocaching. Go on a picnic and feed the ducks. Recent studies point to mental and physical benefits of being active outdoors.
Try a new activity. It can be something simple like painting a picture or playing tennis. Every time we try something new we take a risk, which gives us a boost of happiness. Your kids may also discover a new talent or skill.
Get to know who's next door. Make something to take to a neighbor you don't know so well. Invite them over for dinner or ask them to do an activity with your family.
Plan a theme night. Whether it's game night, cupcake wars or backyard camping, a theme night will lead to lots of laughs! These activities can also help families work more cooperatively together, develop sportsmanship and learn how to actively communicate with one another.
Explore the city. Find a local attraction to visit. Not only will you have a great time learning about our great city and discovering its hidden treasures, you'll also get a little exercise while doing so! Check out https://saintlouis.kidsoutandabout.com/ or https://explorestlouis.com/discover/st-louis-kids/ for ideas.
When families unplug together, they are naturally more active, develop a greater sense of independence, play more creatively, seem more relaxed and develop better communication and social skills as they interact with others. For more tips on helping your family connect through nature, visit http://www.ymca.net/letsmoveoutside/.

Blog contributed by Youth, Family, & Camp Director at the Edward Jones Family YMCA.