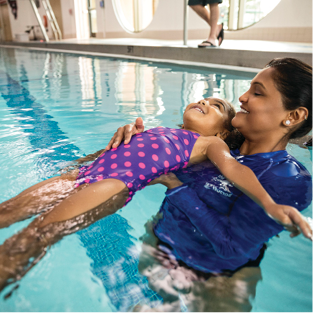 If you're a new swim lesson parent, you may be wondering what swim stage is most appropriate for your child. That's where the Y steps in. Did you know? The Y offers FREE Swim Assessments to ensure children & adults know the appropriate water safety techniques and swimming skills to focus on in Swim Lessons.
Check out these 4 reasons why you should have your child perform a swim assessment.

1. Swim assessments are conducted by trained YMCA Swim Lesson Instructors who are knowledgeable in the benchmark swim skills needed to be a competent swimmer. The swim assessment follows specific guidelines focused not just on swim stroke techniques, but broader water survival competency skills.
2. It can be difficult for a parent to properly assess their child's swimming ability. Let's be honest - we didn't all grow up on a swim team or taking swim lessons. It can be hard for parents to recognize poor body mechanics. When teaching older kids how to swim any of the strokes, there has to be constant assessment of their body mechanics. You need to know the correct position of the hands, the body, the head, the legs, the hips, etc.
3. Participating in a swim assessment helps us get to know you and your child! Not only does this give us a chance to get to know your family, but it also allows us the opportunity to place your child in the appropriate swim lesson stage. All of this provides kids with the best opportunity for success in a positive learning environment.
4. Swim assessments are FUN! Our instructors strive to make every interaction with the water a positive experience. If your child is hesitant about the water because they are unsure of their swimming ability, a swim assessment with a YMCA Swim Instructor will not only be constructive - but they will have a great time doing it!
There is no limit to how long a swimmer can stay in a swim stage because the aim is for all swimmers to be happy and safe around water. If your swimmer is a champion in the water, our swim instructors will let you know how well your child is doing and that they're ready to move to the next swim stage. If a child is on the weaker side of his or her class, we always want the swimmers to stay at their current stage and continue to build their skills until they are ready to move.  
There is no rush when it comes to water safety!

To schedule a free swim assessment, fill out the assessment form or contact your local Aquatic Director!