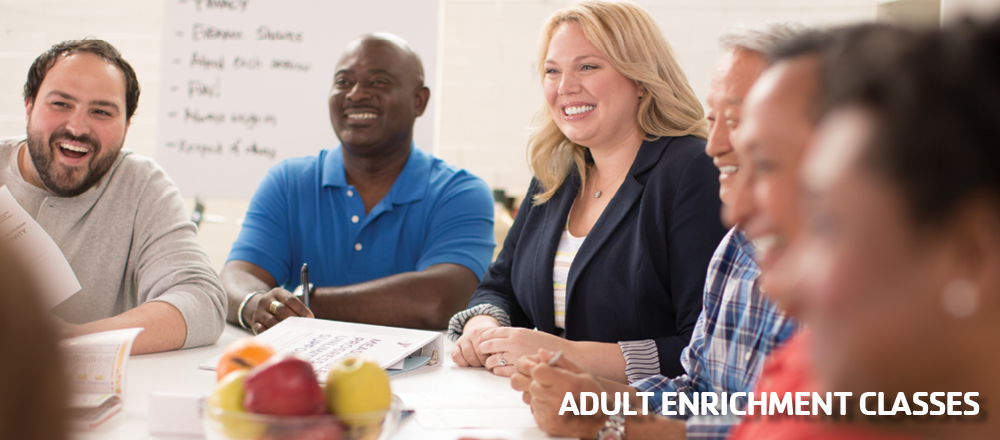 Join one of our Adult Enrichment Classes and find a new hobby or two. You'll learn lifelong skills to create beautiful hand-made items to enjoy and share with others. You'll learn techniques to find your inner peace. All while making life-long friends and socialize with individuals with similar interests. If you have a program idea that you'd love to see us offer, contact Kay with details.
Body Electric & Mindfulness & Meditation Combo Series on Thursdays 11:30-2:30 in the Community Room - register here
These 2 classes dovetail together to bring about a broader understanding and awareness of what is possible when your mind and your body collaborate to create a more vital, meaningful life at any age.
This Combo class is progressive, and each week builds on the previous week. If you are just starting-look for a Level 1 Class. New Series start periodically throughout the year.
Mindfulness & Meditation
Mindfulness & Meditation is all about the benefits of being conscious, present and in charge of how you participate in life. This class will help you with stress reduction, lowering anxiety, clearer mental focus, memory enhancement, and fewer accidents. It's not about sitting quietly, it's about learning to become fully present at this moment and choosing what is going on in your brain. Techniques are taught to support relaxed alertness, monitor and change thought patterns and improve memory and comprehension. Information and practices will be covered about your brain waves, how to shift them and most importantly how to lower your beta waves which cause anxiety, stress and are precursors to many mental imbalances.
"If we get good at being present our life becomes a meditation full of joy and wonder." Dress comfortable and bring what you need to be supported in a sitting and lying position. Accommodations can be made if the floor is a challenge. We encourage members to take the whole series as the classes build on each other.
Check out our Guided Meditation in the Water Class.
Body Electric
Body Electric is about understanding yourself as an electromagnetic field of dynamic energy. This series of classes build on each other to form an understanding of your field, how it works and how you can learn to change your patterns. What this means for you is that once you understand how you work, you can shift your field which is directly correlated to how you feel, your stress and pain levels and your emotions. Each student will learn a variety of techniques that they can do for themselves to get into balance. The folks who have taken the class have all experienced significant changes in their overall well-being, increased energy levels, decrease in pain and stress and many discovered that there were a variety of ways to change how their bodies respond to live and work with their health care professionals, were able to reduce their dosages or titrate off some medications.
Book Club on Mondays at 12:30 - 1:30 in the Community Room - register here
Join our Book Club and have a great book talk with other members. Our club picks books from the St. Louis County Library Adult Group Discussion Kits. Most sessions the group reads two books and the books are given out the first and fourth weeks. We read about 100 to 125 pages a week and discuss what we have read or associated topics. Our schedule for coming books is on the Bulletin Board in the Community Room.
Instructional Drawing-All Levels Taught-Beginner to Accomplished Mondays 9:00 – 10:30 AM in the Caring Room - register here
With support to all skill levels, our drawing studio will support the student where they are. For beginners, we offer instruction and projects to introduce, practice & develop their skills and a creative vision. All Levels are taught. Students should bring their sketchbooks and any pencils they may have. This class is taught by Polly, an artist and art teacher.
Drawing Open Studio- Mondays 10:30 – Noon in the Caring Room - register here
Open to artists who want some peer support & community. Bring your projects and what you need to support your medium. This class is taught by Polly, an artist and art teacher.
Wonderful Wednesdays-Wednesdays 11:30 - 1:00 in the Community Room - register here
Each week we will engage in a variety of activities & snacks. It might be a speaker or a movie, a visit to a far-off land (no packing), an experience of an essential oil with its benefits. Learn & taste a variety of loose-leaf teas and sometimes just plain fun. The Room with a Bloom (making a floral arrangement to take home) is included in Wonderful Wednesdays.
Room with a Bloom-Monthly Event-Wednesdays 11:30-1:00 in the Community Room (see dates below) - register here
During this event, we will make a cut flower floral arrangement. This is in collaboration with the Missouri Botanical Garden. Experience the joy that flowers bring into your life! Take part in a monthly flower arranging program. This program will provide participants with a hands-on experience that is both therapeutic and educational.
March 13
April 10
May 8
June 12
How to View and Appreciate Great Movies - Wednesday 1-2:30
This video series will use Casablanca, Citizen Kane, Jaws, The Godfather, Wizard of Oz, Star Wars, Rocky, Do the Right Thing, Silence of the Lambs & Apocalypse as subjects to go behind the screen. Lead by Kay
Knitting & Crocheting Instruction Thursdays 2:30-4 in the Community Room - register here
Join our knitting and crocheting class and learn the basic knitting stitches of garter stitch, stockinette stitch, ribbing and more. Learn how to read a pattern along with the techniques need to create beautiful hand-made items to enjoy and share. Enjoy this lifelong skill and socialize with individuals with similar interests. Some yarn, instructions, and patterns are provided. Students will need a #8 crochet hook and/or a #13 knitting needle to start and may need other sizes as they progress. A 3-ring binder, pencil & paper and scissors would be helpful. This is a great way to enhance coordination, develop and strengthen neuro pathways as well as an opportunity to enjoy and make new friends. Instructors are: Dianne, Pam & Mary. Cheerleading-Kay
Knitting & Crocheting Practice Thursdays 2:30-4 in the Community Room - register here
This is for folks who already know how to knit or crochet yet enjoy sharing in community. There is also support if you are embarking on a new pattern or project. An informal mentoring seems to evolve between instructors, students and crafters. Dianne, Pam, Mary & Kay
Non-Competitive Ping Pong - Monday or Wednesday or Friday or all three days at 10:30 to 11:30 in the Hub - click day of the week to register
Ping-pong has been known to gather people together through volleying and practice. The emphasis is on skill building, enhancing hand-eye coordination and social interaction.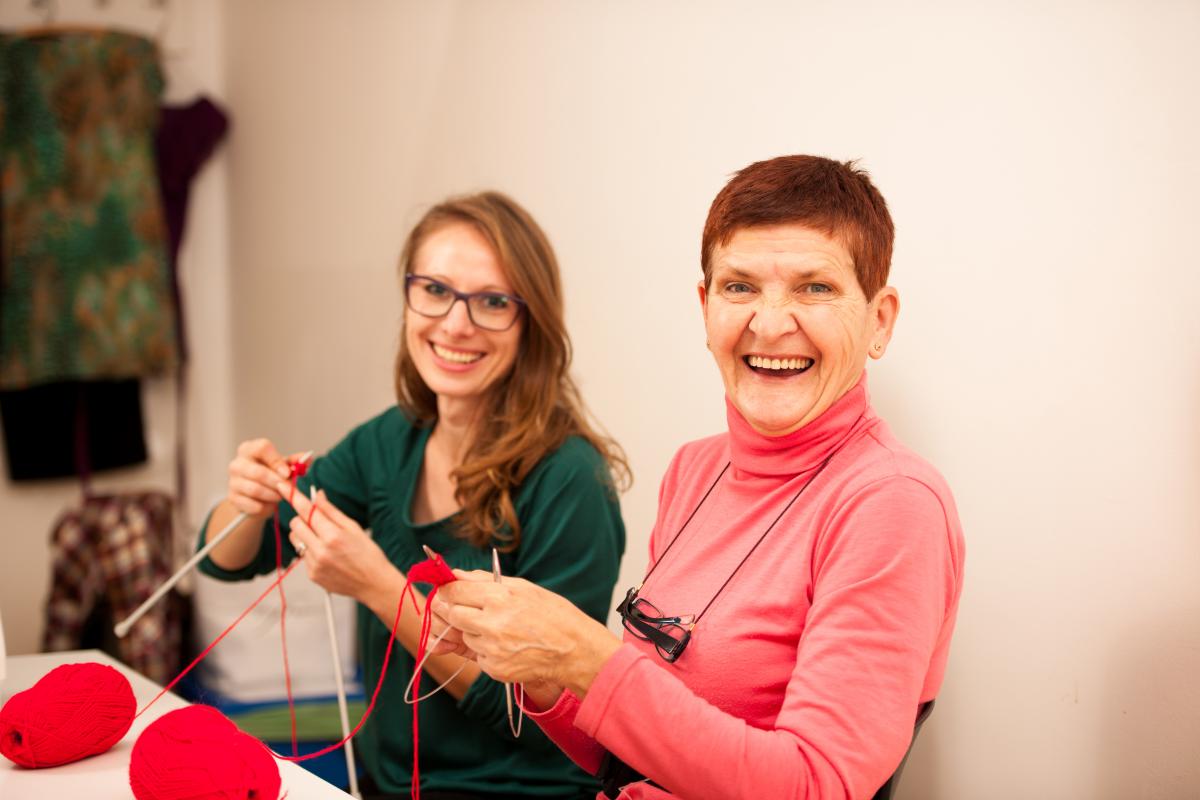 Changing Body Composition through Diet & Exercise-Mondays 2:30-4 in the Community Room - register here
This video series will cover from Managing expectations, food absorption, storage, anabolic resistance, fuel timing, exercise for fat loss, set points and motivation. Moderated by Kay
Group Singing-Mondays 1:30 – 2:30 in the Community Room - register here
Gather to warm up & sing together, music provided. Nanse & Kathy
American History Skeptics Discovery – Tuesday 11:30 – 1 in the Community Room - register here
This is a video series of 24-lectures examining many commonly held myths and half-truths about American history. Lead by Kay
Who's Who Today-Wednesdays 1:00 – 2:30 pm in the Community Room - register here
Take a look at current scientists, professors & leaders who are making a difference in global thinking. Meet Bruce Lipton & Gregg Braden. Moderated by Kay
Intro to the Fitness Machines-Wednesday-3:00-4 on the Fitness floor - register here
This class will introduce a machine a week, The benefits & correct positioning. Paula
Cooking Matters - Monday 2:30-4
A hands-on class in collaboration with Missouri Extension, teaching about nutrition, labels, myths, recipes, cooking and eating.
Music & the Brain - Tuesdays 1-2:30
This video series explores the whole brain activation that music stimulates. Can music repair, develop or improve function? Lead by Kay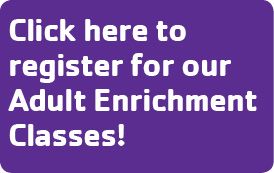 The following are classes we have available periodically. If you are interested in any of these class offering please contact Kay.
Awakening the Dreamer
A workshop format teaching social consciousness and creating communities of collaboration
Brain Enhancement
Several video series about understanding, cultivating connections & exercises to keep you sharp.
Comparative religions
A video series comparing the similarities and differences of most world religions.
Effective Communication
A video & discussion series, learning about ourselves & how our assumptions can sometimes be comical within our daily talking.
Gardening
Several series ranging from containers, to vegetable, floral, shrubs & trees to Community projects.
Herbs
All about herbs, their history, uses in cooking as well as for medicinal purposes.
Essential Oils
Many oils introduced as well as experienced and how they can be used in everyday ways to support health, encourage relaxation, in cooking and many more practical applications.
Tea Time
All about loose leaf fresh teas, their histories, uses, benefits and how they can enhance your health & wellbeing. This is an experiential class with tea & goodies.
Writing & Composition
Several series taking the composer through Fiction, non-fiction, autobiographical. Actual writing is done within the session, shared and tweaked. How to self-publish is also covered. Some personal revelations were discovered in the past.
Dreams
Learning about the dreams everyone has, what their personal significance might be as well as developing more restful sleep and remembering your dreams. We can learn a lot about our inner selves through our dreams.
Living Vision
This class teaches us about how we really see using all our senses. We also learn about how our sight might be affected by our past experiences, our beliefs and how comfortable we are in the world. Exercises to strengthen vision are included. Several were able to let go of their glasses.
Contemporary Concepts
An introduction to current & recent influential people, their discoveries, their theories and how, shifting our perspective can have huge benefits to overall happiness. Some folks who have been included thus far are: Deepak Chopra, Eckhart Tolle, Gregg Braden, Barbara Marx-Hubbard, Lynn McTaggart, David Hawkins, Nassim Haramein, James Redfield, Wayne Dyer, Michael Beckwith, Neale Donald Walsch, James van Praagh, Stephen Hawking. There are many more to be explored.
Inspirational Movies
The showing, discussions and of course the popcorn, have set us to pondering the "What If's". Some shared in the past; What the Bleep do we know, Visions of a Universal Humanity, Celestine Prophesy, Avatar, I Am, Indigo, Living Matrix, Life of Pi. Movies can open us up to multi-sensory group experiences.
Sustainability
There are several classes demonstrating newer technologies & practices which are often easy to implement. There were some startling discoveries about how one person can make a difference.